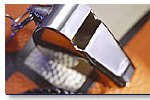 Waccamaw High School Physical Education Department
Dear Parent/Guardian,
Physical Education in American schools is changing. PE today is about impacting the lifestyle of each student beyond the high school years.
According to government estimates, some 6 million American children are seriously overweight.
Those children who remain heavy as adolescents tend to stay that way into adulthood.
The resulting illnesses: diabetes, heart disease, high blood pressure, and several kinds of cancer, strike an estimated half million American each year while costing $100 billion in Medial expenses.
The proportion of overweight American children jumped from 5% in 1964 to nearly 13% in 1994. That means that today one child in three is overweight or at risk of becoming so.
It is the goal of the WHS Physical Education Department to provide your child with the knowledge to sustain a lifetime of fitness. I believe that physical education is a part of the total school curriculum that uniquely focuses on the physical development of the child, while also addressing the emotional, intellectual, and social needs. I want each student to understand that fitness activities can bring a quality of life that money can't buy.
I am asking for your cooperation for this school year. The WHS Physical Education Department has adopted the content standards for physical education prepared by the National Association for Sport and Physical Education (NASPE) and the South Carolina Association for Health, Physical Education, Recreation, and Dance (SCAHPERD). The content standards specify, "what your child should know and be able to do". Under each content standard ate the performance benchmarks that will be used in assessing your child.
Attached is an academic plan and a management plan for my class. You and your child should read and discuss the plans. Having read them, please have your child retain the plans and sign below to acknowledge that you have read the plans. Have your child sign and return this letter to me. If there are any questions, please feel free to call me at 237-9899. RULES ABOUT PHYSICAL EDUCATION CLASSES AND AUTHORIZATION TO BE IN THE GYM
1. Roll will be checked at the beginning and end of each class period.
2. Students are not to leave the gym to go to the parking lot to get their clothes as a "regular" activity...Gym Lockers are provided for such storage.
3. Students that leave the gym to go to other parts of the building or to lockers or to see teachers should must have a note from their teacher.
4. Students that do not belong in the class are not to be in the gym for any reason other than delivery of messages to a teacher or unless they have been sent from the office to deliver or retrieve someone or some thing.
5. Students are NOT TO OPEN the Gym doors for other students when they knock UNLESS they tell you their teacher. These students should be checked immediately for a pass.
6. Only authorized and scheduled students are to be allowed in the gym. Students "at lunch" should NOT BE ALLOWED in the GYM.
7. NO GYM DOORS are to be UNLOCKED or PROPPED OPEN once the school day begins.
8. Students should not be in the lobby, outside the building, or outside of the designated areas from their teachers without a pass.
9. Valuables must be locked in a locker or in a P.E. Teachers office. Students are NOT TO LEAVE MONEY, PURSES, WALLETS OR OTHER VALUABLES UNSECURED IN THE LOCKER ROOM.
SUBJECT: General Policies of Personal Fitness and Lifetime Sports
DATE: 2017-2018 School Year
Physical Education is a Required course to receive a high school diploma.

Course Description

: Personal Fitness
Personal Fitness will be a "personal" course. It will provide a wide array of topics related to health, physical fitness and how to establish a high quality lifestyle. Students will learn how to assess their own health and fitness levels, and based on that knowledge, they will be able to design their own personal fitness programs. They will also be involved in a wide range of fitness activities. Students will be expected to perform at their own level. Every effort will be made to help each student recognize significant gains in his or her level of fitness. The body is a vitally important component of an early adolescent's total self-esteem. I am optimistic that Personal Fitness will help students feel better about themselves, thereby, increasing their self-concepts.
Course Description: Lifetime Activities
Lifetime Sports is designed to give students an opportunity to develop their own skills in a variety of movement forms, such as aquatics, individual sports, dual sports, team sports, outdoor pursuits, and dance activities.
State Standards:
Four performance standards set up by the State of South Carolina must be passed to receive a high school diploma. The course is conducted so that every student can meet the new performance standards.
Standard One: Demonstrate competency in at least two movement forms.
Competency: Implies the ability to independently and safely participate in an Activity and maintain a level of continuity in that activity that would make participation enjoyable.
Movement Form: Refers to the following categories: Aquatics, dance, dual activities, outdoor pursuits, and team sports.
Assessment: Teacher observational record, skills test, and written evaluation.

Standard Two:
veloTo develop an appropriate physical fitness program to achieve a desired level of personal fitness. Assessment: Written evaluation/Demonstration and or student project.
Standard Three:
Participate regularly in health enhancing physical activity outside thePhysical Education class.
Assessment: Student records with adult documentation.
Standard Four:
Meet the gender and age group health related physical fitness standard as Published by the national Association for Sport and Physical Education.
Assessment: Fitness gram Physical Fitness test.

Instructional Materials :
The school provides all necessary equipment for sport activities. The school will provide textbooks, work sheets, graphs and diagrams. Students are responsible for having a folder, paper, writing utensils, shorts, tee shirts, socks, and some type of tennis shoes. They may also wear sweat suits (shirts and pants) if they desire especially if it is cold weather.
Grading Procedures:
A total point system will be used. All activities and tests will be assigned a specific point value. The process of evaluation involves accumulating as many points as possible. Final grades will be assigned according to the following schedule:
A= 90% of the total number of points.
B= 80% of the total number of points.
C= 70% of the total number of points.
D= 60% of the total number of points.
STUDENTS WILL RECEIVE POINTS FOR THE FOLLOWING:
Dressing out and participation (includes daily evaluation) 70 points
Skill Tests--------------------------------------------10 points
Written Tests-----------------------------------------10 points
Fitness Activities (20 min. walk, 20 min. run/walk, 5,10,15 min. run)-10-50 points
Outstanding Effort in class----------------------------1-10 points
Showers-------------------------------------------------------2 points
DEDUCTION OF POINTS FOR THE FOLLOWING :
Not dressing out without a legal excuse----------------10 points
Lack of effort---------------------------------------------1-10 points
Bad attitude, which leads to poor effort, appearance and
progress----------------------------------------------------1-10 points
Lack of proper clothing and shoes1 point each
Late for roll call (you have 10 minutes from the 1st bell)-1 point
Chewing gum in class, which includes outside also (every timecalled down)-1 point each time
CLASS PROCEDURES:
1.Students are expected to dress out and participate in class activities daily.
2.Doctor excuses or notes from the Athletic Trainer will be honored providing
theyspecify the dates and activities to be missed by the student. These students
will not have to dress out but will have to perform appropriate duties assigned by
the teacher during the days they are excused from dressing out.
3. Each student should bring a towel from home and an extra tee shirt, shorts that are
not too short or too long, below the knees, socks (white). Students may bring soap
and deodorant to store in their locker for their personal use.
4. A lock and locker will be provided for every student for the length of the course.
Students are reminded to lock his/her valuables in his or her own locker as soon as
they are dressed out for class. Do not share lockers or combinations with other
students. Even with these precautions, students are encouraged not to bring money
or valuables to class. The Physical Education Department of Waccamaw High
School will not be responsible for money or articles stolen or lost.
5. Students must be dressed out and ready for roll call within 5 minutes of the tardy
bell.
6. Tests assignments missed because of absences should be made up within three
days upon returning to school. It's the student's responsibility to make
arrangements for missed work.
7. All jewelry must be removed before participating in physical education.
8. Respect for yourself, instructor and classmates is expected!
9. Respect school property and keep locker rooms neat and clean.
10. There will be a duty roster for each dressing room and every student will take
turns making sure his or her dressing room is kept clean.
11. No gum, food, or drinks are allowed in the gym or dressing rooms!!
CLASSROOM CONSEQUENCES:
Minor Infractions
1. Warning
2. Phone call home
3. Referral to assistant principle.
Major Infractions - Referred directly to the assistant principal
Safety Guidelines:
1. Follow rules of the activity
2. Pay attention (Stay alert).
3. Use equipment appropriately
4. Demonstrate good sportsmanship
5. Play to your potential, but consider your physical limit
Each student will be responsible for a major project that will be collected in two parts, due at semester break and at the end of the course. This project is the "after school activity log". Each student will have to complete a proposal form stating what specific activity they will do after school and how this will enhance their health.
They must do this physical activity at least three times a week for at least 30 to 45 minutes each time. They will be given a log sheet to record the following information: date, activity, duration of the activity and the signature of their contact person. The contact person must be a responsible adult, parent or coach. I might add this, I want a full signature from their contact person no initials. As you can imagine this project is a lot of work. The students must be encouraged to keep up the record keeping part of the log. This packet counts 20% of their entire grade. 10% the first semester and 10% the second semester.
LEARNING AND DEVELOPMENTAL GOALS:
A general goal of all my physical education classes is for all students to become confident in their own abilities, to develop personal hygiene skills, to learn the skills and rules of all activities while practicing safety, to cooperate and work with others and to grow socially, mentally and emotionally.
SPECIFIC GOALS FOR PHYSICAL EDUCATION I&II:
1.Dress out every day with the proper clothing.
2.Each student must be able to run twenty minutes without stopping.
3.Each student must show competency in at least tow movement forms (one
team and one individual or dual sport).
4.Students must gain an appreciation for physical fitness and what it does for
their health (short and long range).
5.Students need to participate regularly in a health enhancing physical
activity outside of the regular physical education classroom.
6.All students need to pass five of the six parts of the Fitnessgram (physical
fitness test).
7.Students need to gain a better understanding about how important being
physically fit is to their total growth (social, mental, emotional) as well as
being healthy physically.
WALK/RUN ACTIVITIES:
20 minute walk/run- students walk or run for 20 minutes trying to complete as many laps in 20 minutes as possible. (4 laps = 1 mile) You may use poker chips, tickets, yarn, etc. to help keep up with the laps completed. This is one activity where a grade is given.
Fitness level walk- students group themselves according to what they feel is their level of fitness. Great, Good, Fair, and poor. Each group is given 20 minutes to walk or run. The group cannot become separated. They must stay together for the entire 20 minutes.
5,10,15,20 minute jog- every nine weeks students are tested on jogging a certain amount of time. The first 9 weeks is 5 minutes, second 9 weeks is 10 minutes, third 9 weeks is 15minutes, and by the fourth 9 weeks each student should be able to jog for 20 minutes without stopping.
Poker walk- students may work in teams or individually. Students walk or run for 20 minutes . Every time a lap is completed the group or individual is given a playing card. At the end of the 20 minutes the best hand wins a P.E. prize or extra points. A hand is a total of five cards. Extra cards can be traded in for more off the deck.
CIRCUIT TRAINING:
10 - 12 stations set up around the gym. Student's workout at each station for one minute. Music is being played while students are exercising.When the music stops the students move to the next station. There are about 3-4 students working out at each station at a time.
Physical Education Schedule 2017- 2018
Activities
Physical Fitness
Physical Fitness Test (pre-test)
Indoor Hockey
Physical Fitness Test
Bowling
Basketball, Weight Lifting,
Badminton, Ping Pong
Physical Fitness Test
Volleyball
Soccer
Physical Fitness Test
Final Exam
Rainy Days: German handball, Line Soccer, or Relays
Periodically on Tuesdays and Fridays we will do certain cardiovascular activities

On certain Fridays we will have an activity day where you will choose an activity to participate in after your cardiovascular workout

FitnessGram® is the most widely used youth physical fitness assessment, education and reporting tool in the world. Based on Healthy Fitness Zone® standards, created by the FitnessGram Scientific Advisory Board, FitnessGram uses criterion-based standards, carefully established for each age and gender.

For more info see http://www.fitnessgram.net/parents-students.asp